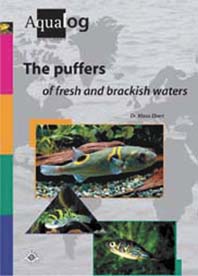 Available in our Store
Item no.:
10065
ISBN:
9783931702601
Price:
19,80 € (Incl. 7% VAT)
Buy now:
Buy now!
Autor: Dr. K. Ebert
96 pages, 300 colour photos, hardcover

This is the first aquarium hobby monograph on fresh- and brackish-water pufferfishes. The author, who has been keeping these fishes for more than 40 years, provides detailed maintenance data on 29 species from this fascinating group. All described fresh- and brackish-water species, from all over the world, are portrayed in the identification section of this AQUALOG. Some 300 stunning colour photographs offer proof that puffers are not only useful snail-eaters but also colourful fishes, extraordinary in their form.
For the first time in the aquarium literature, species that have never yet been imported alive are included. The latest scientific literature has been researched. Thus, all in all, this AQUALOG constitutes a unique work of reference that has much to offer not only the novice but also aquarists and scientists specialising in puffers.
Like every AQUALOG, this pictorial lexicon includes provision for supplementation as new species are discovered, and can thus be kept completely up-to-date. The unique code-number system permits precise identification, even in the case of colour variants with no individual scientific name.