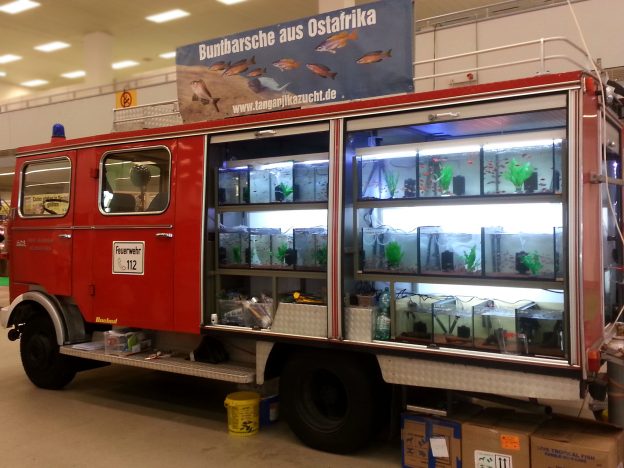 Guest contribution by Mario Cecchetti (tanganjikazucht.de)
For more than 40 years I have been involved in the breeding of ornamental fishes, and since 1982 the cichlids of Lake Tanganyika in particular. Initially I was attracted by Tropheus, then later on a number of sand-dwelling cichlids and Cyprichromis. For a long time I have found the behavior of the sand-dwelling cichlids in particular so interesting that I still keep and breed these fishes today.
As with most aquarists, it all began with a small set-up and only a few tanks; by now there are more than 100 aquaria with a total volume of around 20,000 liters.
None of which, of course, explains the pressing need for a "fire-engine fish-mobile"… Well, then: for a number of years I have also put on a small exhibition stand at the Aqua-Fisch exhibition in Friedrichshafen (Aqua-Fisch in Friedrichshafen) and offered my Tanganyika cichlids for sale there.
Because erecting and breaking down the exhibition stand involved an enormous amount of work and stress, one day I had the idea of a mobile exhibition stand. My first thought was to construct a trailer, which proved problematical even at the planning stage so I rapidly abandoned that idea. Then I had a flash of inspiration: how exciting and spectacular it would be to convert an old fire-engine into a fully comprehensive exhibition stand? And lo and behold, just two weeks later there was an old fire-engine (built in 1976 with 85 horsepower) outside the door!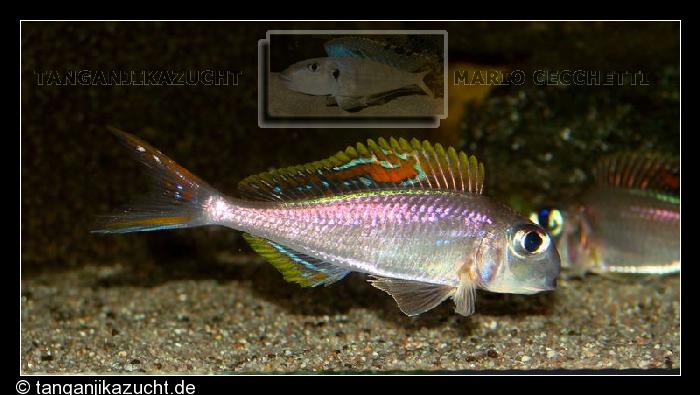 Because the equipment space was already empty we were able to start the preparations right away. First of all everything was cleaned and polished, the rust removed, and the paintwork renewed in the original color. Then the shelving and aquaria were fitted, and a 1000-liter built-in water tank and numerous airlines installed.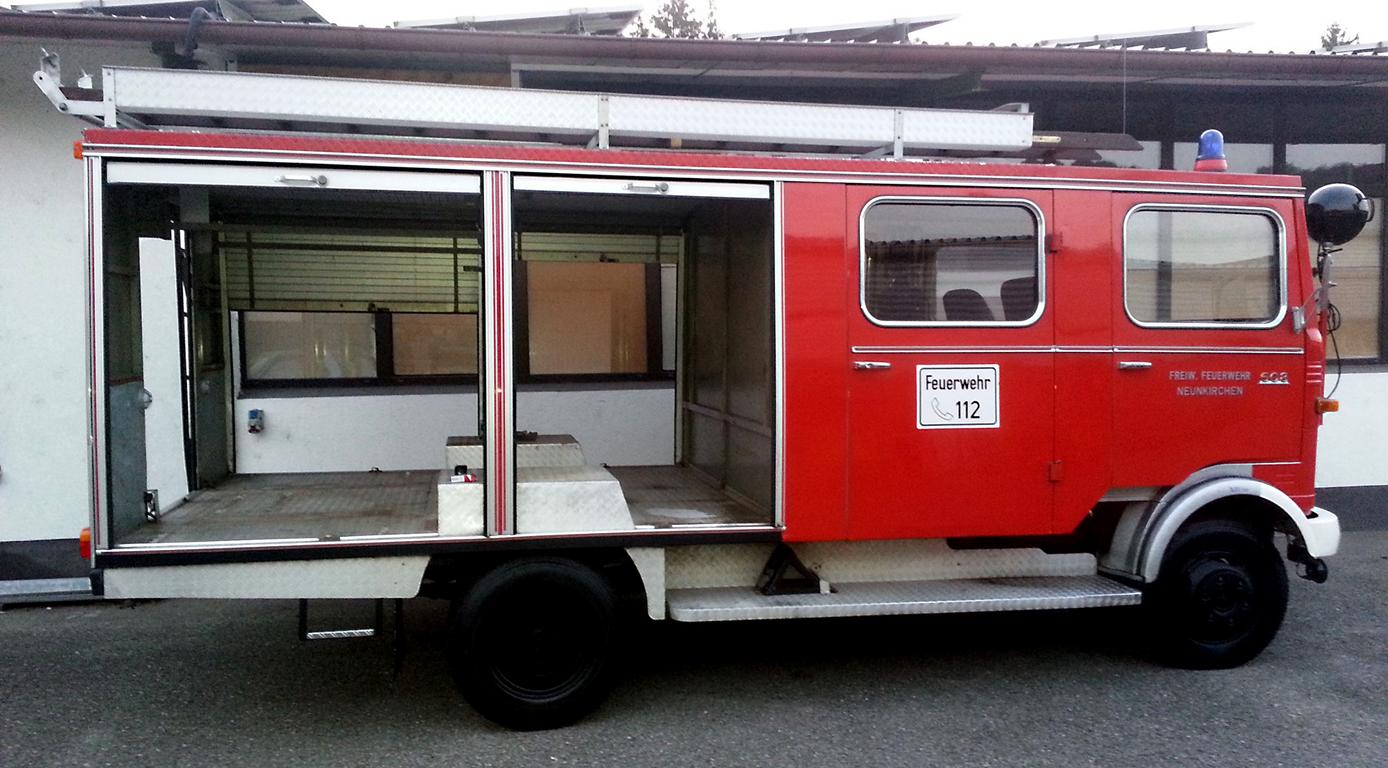 Next all the electrical wiring for the lighting and heating was installed. Obviously the electrical installation was protected with fuses and a circuit breaker. In addition two batteries, a DC/AC inverter, and a battery charger were installed as an emergency power supply, to ensure that aeration and filtration would be guaranteed in the event of a power outage.
The entire conversion process took three months, and I would like to take this opportunity to thank my colleagues Michael and Christian for their enthusiastic support – I think the results speak for themselves: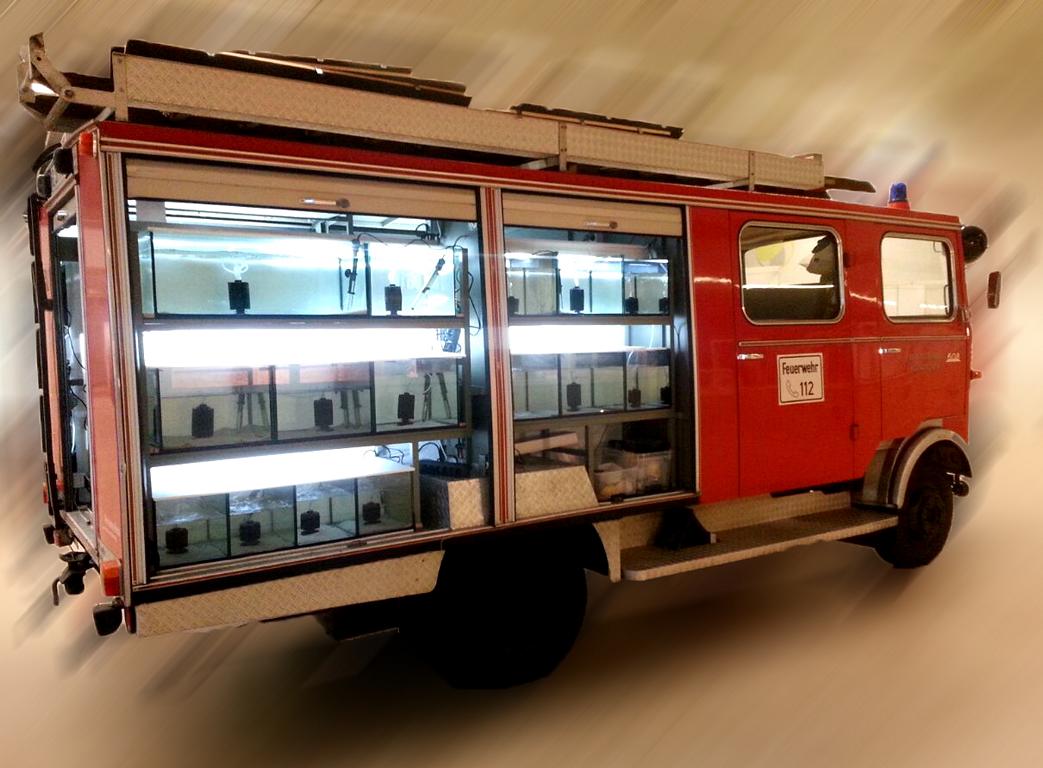 It won't be long before you can see the fire-engine fish-mobile in action at theAqua-Fisch 2015 in Friedrichshafen, Hall B5 Stand 550. I look forward to seeing you!
I will be happy to answer any questions.
Mario
www.tanganjikazucht.de
PS: I will be happy to hire out the fire-engine fish-mobile to clubs, companies, and manufacturers for various events.
---
Anzeige

---